NC'S 1ST BATTERY RESEARCH CENTER ATTRACTS VIPS FROM ACROSS THE STATE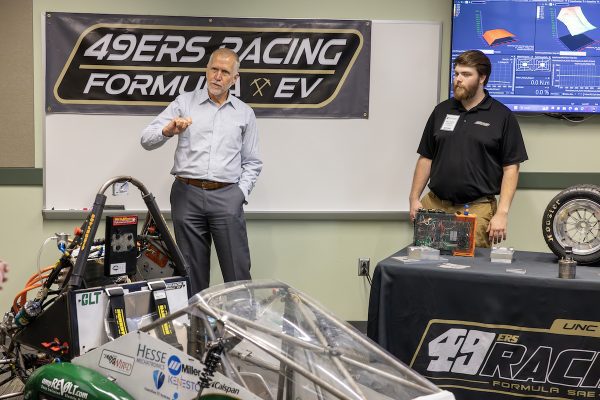 "This is another incredible success story that we have to continue to build on," said U.S. Senator Thom Tillis as he joined several other legislators and industry partners on a tour of BATT CAVE on Monday.
As the guests explored NC's only university-led battery research center, they visted first-hand demonstrations such as battery stress testing designed to solve for enhanced safety and optimization, the university's first EV race car developed by students, the nation's first wireless charging technology for rail application, unmanned atmospheric and ocean vehicles and next-generation traffic network research projects.
With electric vehicle manufacturing as a top emerging industry in North Carolina, the demand for talented workforce and technology breakthroughs will increase as well. UNC Charlotte is addressing that demand head on through BATT CAVE, the North Carolina Battery Complexity, Autonomous Vehicle and Electrification Research Center.
Read full article for more information.