W.S. LEE COLLEGE OF ENGINEERING LAUNCHES NORTH CAROLINA BATT CAVE RESEARCH CENTER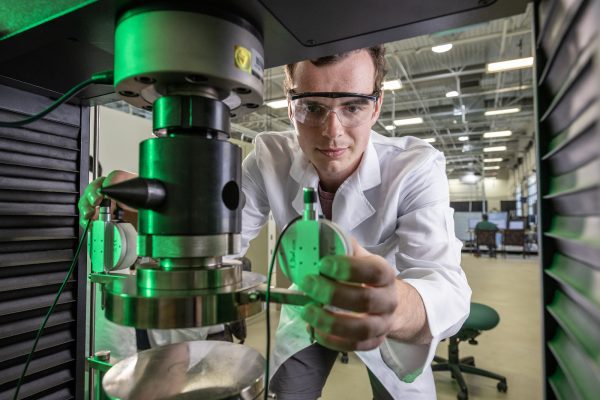 It isn't the secret, subterranean headquarters of a masked superhero and a turbocharged car, but the North Carolina BATT CAVE Research Center may very well transform the future of battery technology and the vehicles that use it.
On June 1, William States Lee College of Engineering announced the North Carolina Battery Complexity, Autonomous Vehicle and Electrification Research Center is the first and only university-led research center in the state focused on advancing the fast-growing field of battery technology, safety and electrification.
"The battery investigations will be designed to discover new materials, challenge fundamental electrochemical theories and develop mechanistic modeling for developing alternative types of batteries, which will provide even broader implications for the next generation of autonomous vehicles, smart cities and intelligent systems," said Robert Keynton, dean of the William States Lee College of Engineering. "Our background in automotive research, plus our newly expanded research capabilities in batteries and electrification, will allow UNC Charlotte to continue fueling the growth of North Carolina's economy through research and development. The North Carolina BATT CAVE Research Center is another key example of how the college is contributing to North Carolina's progress."
Learn more about this select team of multidisciplinary faculty with elevated expertise in applied research.