Taiwanese EV Executives Tour Engineering Research Lab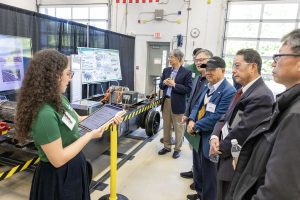 A delegation of 16 Taiwanese electric vehicle executives received an inside look at how UNC Charlotte is building a talent pipeline and creating innovation for the state and region's emerging electric vehicle industry during a campus tour Thursday, May 4.
The visit included technology demonstrations led by students and faculty in the W.S. Lee College of Engineering, including PoleVolt, a universal charging solution designed for installation on street-side light poles, developed in partnership with Duke Energy and the City of Charlotte.
During the past five years, the college has collaborated with more than 200 industry partners.
"UNC Charlotte, as this region's public research university, is a key source of talent to support energy and advanced manufacturing, including the EV industry, one of our state's fastest growing sectors," said Rob Keynton, dean of the W.S. Lee College of Engineering. "Our industry partners tell us our graduates are real-world ready from day one. This is intentional, as we focus on providing our students with reduction to practice experiences beginning in their first year."
Other demonstrations during the tour included an EV race car developed and fabricated by students in 49ers Racing and wireless power transfer designed for rail transportation, an innovation introduced for Belmont Trolley.
Through a historic $40.6 million investment from North Carolina's General Assembly, the University is on target to grow enrollment in engineering, technology and data science by an additional 2,000 undergraduate and graduate students during the next five years.
The UNC Charlotte tour opened with a welcome from Chancellor Sharon L. Gaber.
Also, Sasha Weintraub, a Duke Energy executive and member of the University's Board of Trustees, spoke about the quality of Charlotte graduates and the value of having the University as a research and development partner in power supply, grid resilience and electrical vehicle charging.
This regional tour — organized through the Economic Development Partnership of North Carolina and the Charlotte Regional Business Alliance — included stops at the Daimler Trucks Manufacturing Plant in Rowan County, lunch at Parker Poe in Uptown Charlotte and an evening reception at the UNC Charlotte Marriott & Conference Center.
Taiwan is a leading player in the electric vehicle supply chain.
Originally published Inside UNC Charlotte.