Powering Rail Transportation of the Future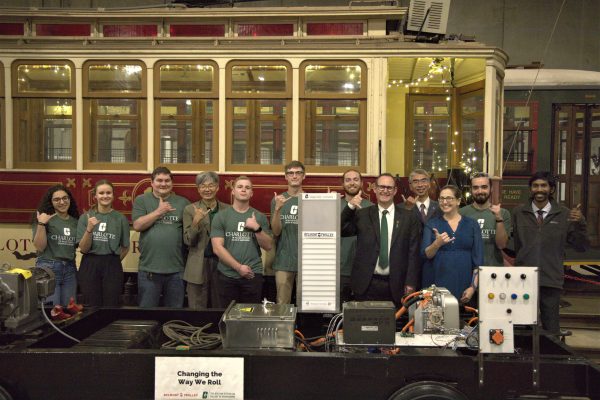 Engineering researchers partner with community to implement new wireless technology
UNC Charlotte's William States Lee College of Engineering recently introduced a new innovation alongside an existing local heirloom. Community leaders, dignitaries and academia gathered to gain a first-hand look at the new lithium ion battery power cart and the historic Belmont Trolley cars that it will soon power. This battery innovation was developed as wireless power transfer designed for rail transportation, and was demonstrated in its first public application at the Belmont Trolley's "Changing the Way We Roll" event on October 12.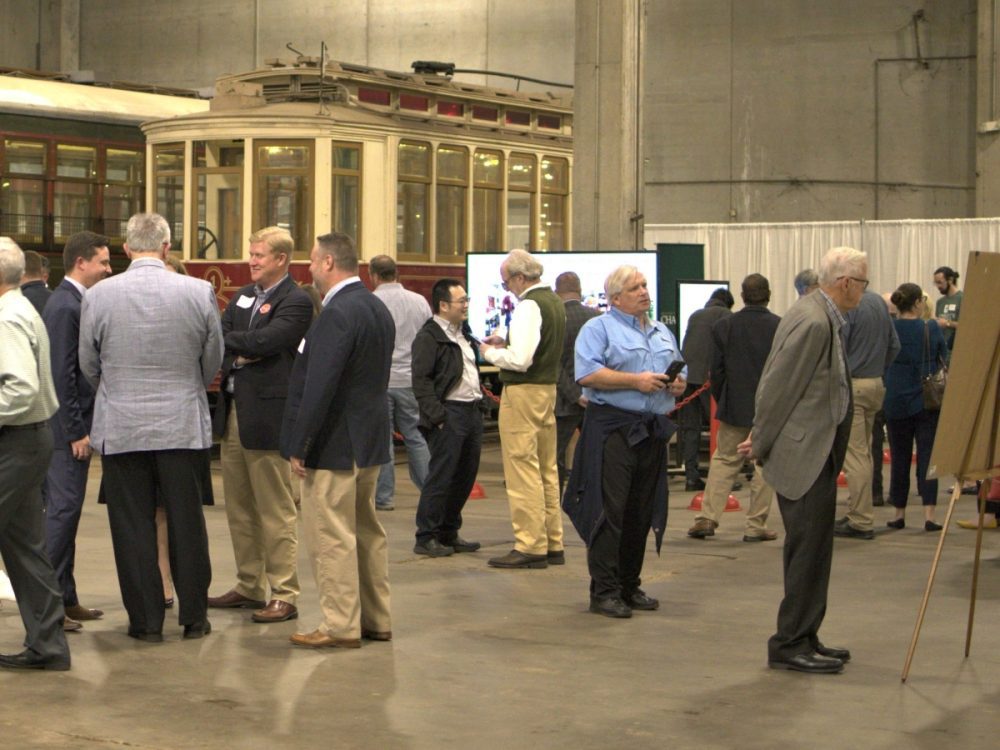 The event was hosted by Belmont Trolley, Inc. and William States Lee College of Engineering at UNC Charlotte, and was sponsored by City of Belmont and Piedmont Lithium. The battery investigations are sponsored by the U.S. Department of Transportation and the N.C. Department of Transportation.
Guests at the event first heard from sponsors and partners, including Rob Keynton, Dean of the W.S. Lee College of Engineering, who elaborated on the emerging technology. "While there are wireless power transfer projects all over the world, our current NCDOT-UNC Charlotte project is the first in the U.S. for intercity passenger trains," noted Keynton. "This technology has big implications for reducing emissions from the use of diesel locomotives."
Event guests then had the opportunity to tour Belmont Trolley's three historic trolley cars, and view a working demonstration of the state-of-the-art power system. Engineering researchers Tiefu Zhao, Shen-En Chen, and Nicole Braxtan, joined by their team of students, displayed the technology and discussed wireless power transfer with guests. These student researchers are the most recent among twenty engineering students to have worked on this project in recent years.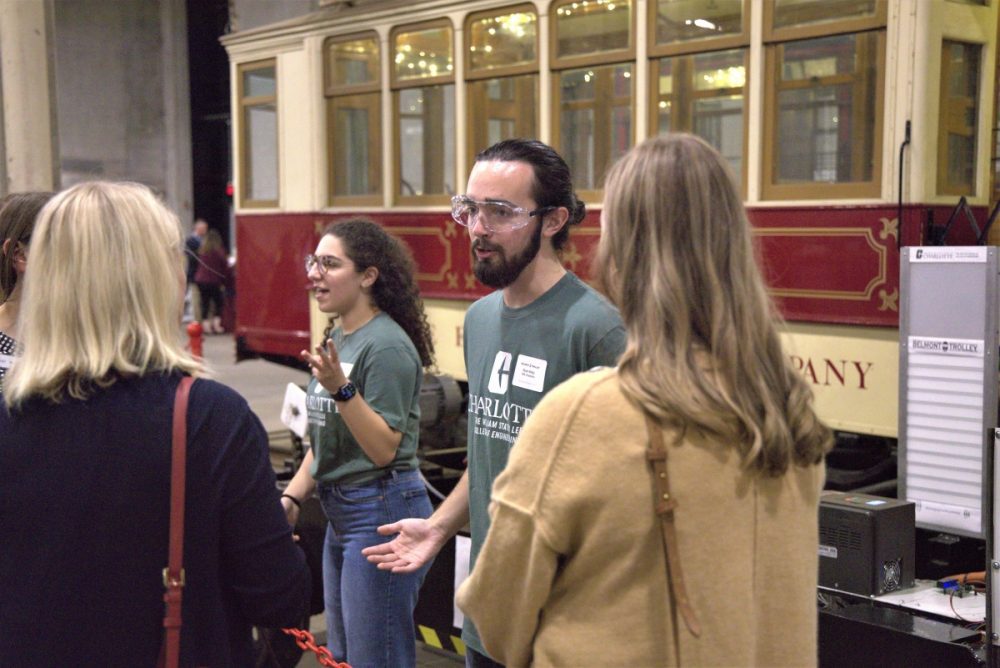 "Utilizing an innovative design featuring rechargeable lithium-ion batteries to fuel our trolleys, we're building a long-term, sustainable energy strategy to establish Gaston County as a leader in electric-powered rail transportation," said Belmont Trolley board chair, Rob Pressley.
Wireless power transfer (WPT), also called inductive power transfer (IPT), is the transfer of power from a transmitter system to a receiver system via a magnetic field without a wire connection between them. The technology works in essentially the same way as charging a cell phone using a wireless charging pad, only on a much grander scale.
"This project exemplifies the types of strong partnerships that can be forged between our university and our local communities," said Keynton. "Our neighbors at Belmont Trolley, the City of Belmont, and Piedmont Lithium have joined us in personifying UNC Charlotte's guiding principles of environmental stewardship and impactful research."
About Belmont Trolley, Inc.: Belmont Trolley, Inc. seeks to offer a leisurely journey back in time by restoring trolley service in Gaston County to connect local communities, while narrating the cultural history of streetcars in the region, and act as a catalyst to drive local economic growth. Learn more about Belmont Trolley at belmonttrolley.org and on Facebook, LinkedIn and Instagram.
About William States Lee College of Engineering:
Established in 1965, William States Lee College of Engineering at UNC Charlotte, named for energy industry icon Bill Lee, offers engineering education programs at the undergraduate, graduate, and doctoral levels. The College of Engineering is one of the Carolinas' largest engineering schools, with more than 3,000 students and over 16,000 alumni. The college is committed to building strong partnerships with industry in Charlotte and across the nation through academic, research and innovation programs. Learn more about how the college is forging the future at engr.charlotte.edu and on Facebook, LinkedIn and Instagram.